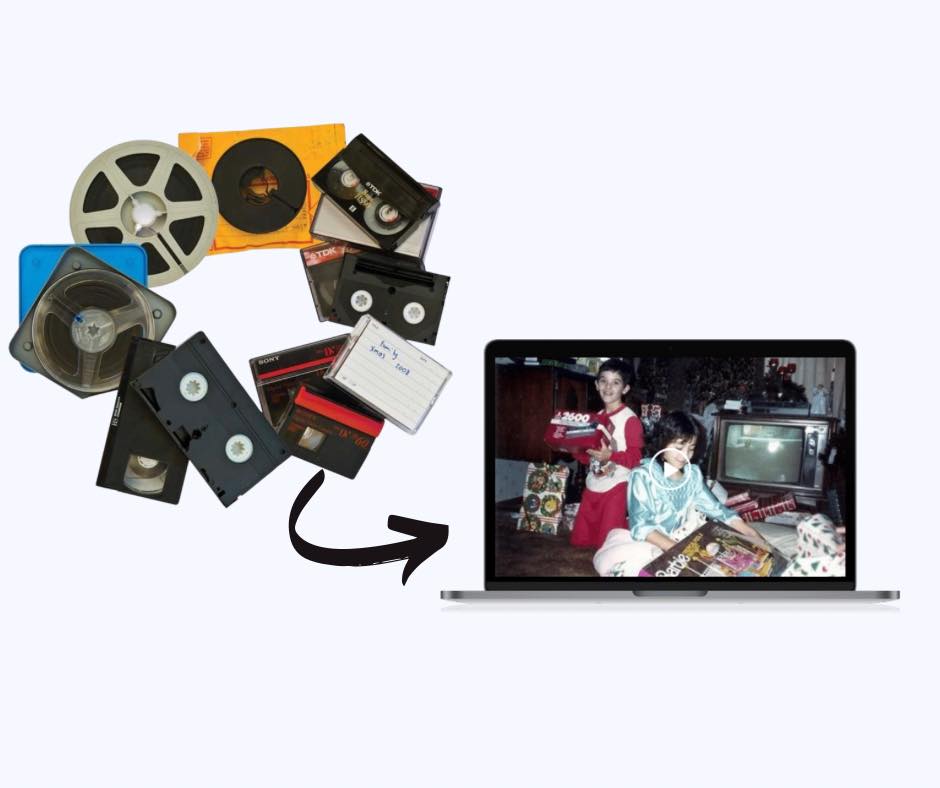 Over 1 Million Memories Digitized & Trusted by Thousands
Digitizing your precious family memories so that you can watch and enjoy them is an exciting experience and one you will never forget. We treat your memories as if they were are own, and deliver the highest quality digitized copies that you and your family will absolutely love.
Over 1 Million Memories Digitized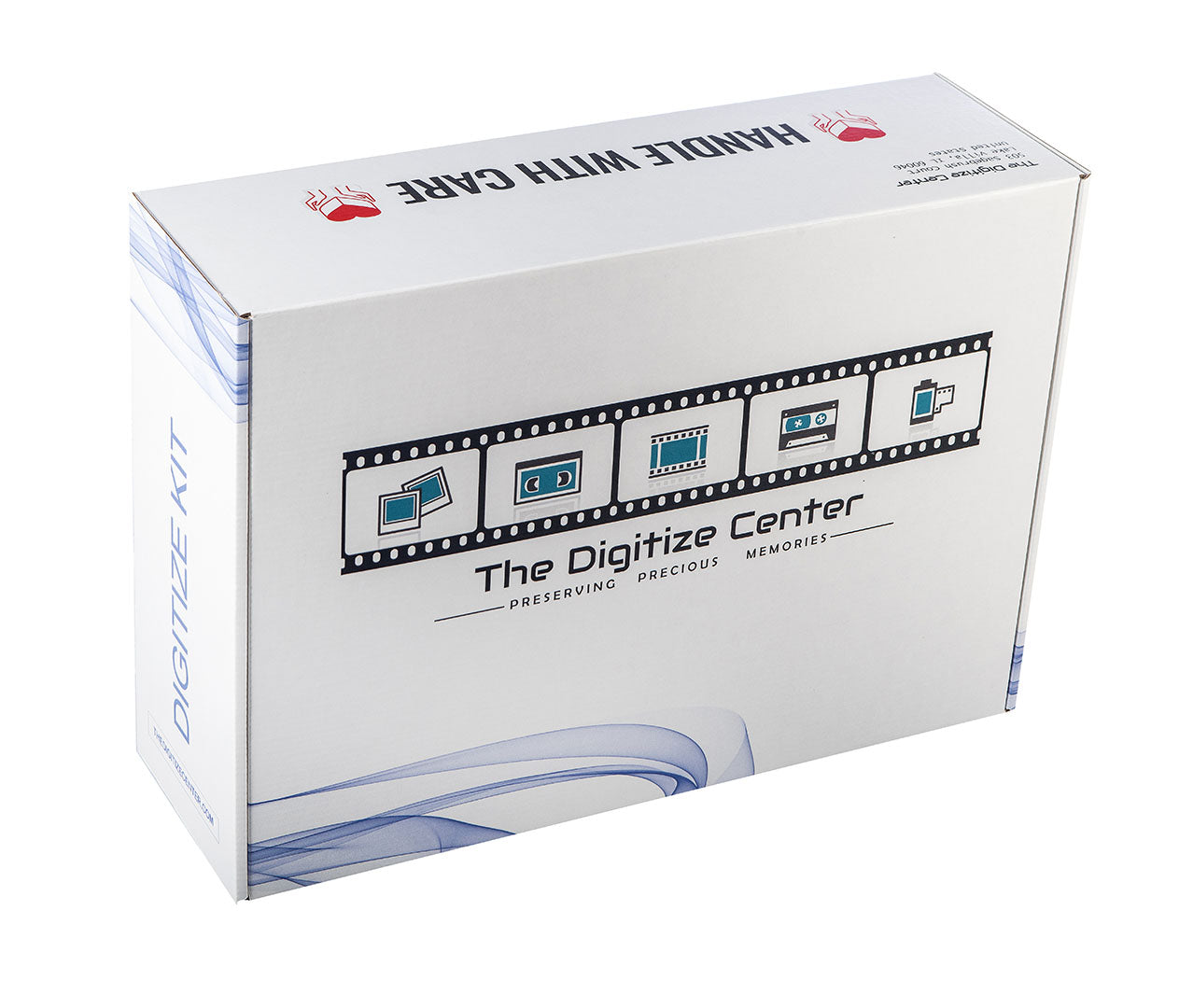 Order your Digitize Kit to Get Started
Order the Digitize Kit that corresponds to the number of items you want to digitize and prepare to enjoy a lifetime of memories in high-quality digital format. Fill up the Digitize Kit with your memories and receive everything back fully digitized in just a few weeks.
Order Digitize Kit
How it Works - The Process
Step 1: Order Digitize Kit and Pack your Items

The first step is simple, order the Digitize Kit that corresponds to the number of items you plan to send in. Don't worry if you do not have the exact number, you can always send more if you'd like. Once the kit arrives, pack it with your memories and send it off to us using the prepaid special priority return label.

Step 2: Professionally Digitized with Care

Our team of experts will digitize all of your media with care and prepare it for you in the format of your choice. You will receive email updates along the way keeping you up to date on the status.

Step 3. Enjoy your Memories

You will receive all of your original media back, along with the digitized versions you can download from the cloud, receive on a thumb drive, or view on a DVD set. Enjoy your digitized memories forever

What You Get
Frequently Asked Questions
How much does it cost?

Digitizing your video tapes is only based on the number of items you send in. To learn more, visit the Pricing Page or scroll down.
How long does it take?

It can take anywhere from 2-6 weeks to completely finish your order depending upon what size it is and if its during the busy season. However, we do offer expedited processing options that allow you to have your order completed in as little as 3 days!
What type of items can you digitize?

We can digitize most types of consumer media including VHS tapes, camcorder tapes, film reels, photos, slides, and much more. For a full list of what we can digitize, visit What We Digitize.
How do I share my memories with my family?

We make it easy to share your memories with friends and family. When your items are completely digitized, we will send you an email with a link to access your cloud which will have all your memories on it to view and download. We also include simple instructions with the email on how you can share these memories. There is no limit to how much you can share. Alternatively, you can always order additional thumb drives or disks to give to your family members.
My stuff is pretty old, will you be able to digitize it?

Most likely yes. Our expertly trained technicians can digitize even the oldest of media items. We utilize technology to bring these memories back to life. In very rare cases, an item may be too damaged to be digitized.
Which output choice should I choose?

This is really up to you and how you would like to have your digitized files. We can put your digitized files on the cloud for digital access and download, put them on a thumb drive, or burn them to playable DVDs.
How will you organize the files?

We make it easy to identify your digitized files. If you choose the digital cloud or thumb drive, your digitized files will be organized into folders by media type, such as VHS, Camcorder Tapes, and Photo, and then each file will be named with an item number and brief description. This is something that only we do. Whenever possible, we will take whatever labels you have on your items and apply that name to digitized file. So if you have a tape labeled Christmas 2001, its digitized file will have that same file name.
I'm nervous about sending my memories. What safeguards do you take to keep my memories safe?

Excellent question! We take a number of measures to make sure your memories are safe and secure from the moment they leave your possession until you receive them back from us. This includes using a special priority shipping service, an advanced internal tracking system, and more. So far, we have digitized over 1 million memories and have never lost or damaged a single one. Not one! To learn more about the safeguards we take, read this article.
Where does the digitization take place?

We do all digitization in house at our facility in Chicago, Illinois. We NEVER send your items overseas for digitization like some other companies do.
What's included with the Digitize Kit?

The Digitize Kit is a special secure and crush-proof box we send you so that you can pack up your memories to send back to us. Included in the box is a Welcome Guide with useful information to help you pack up your memories. Also included is a Customer Card for you tio fll out.
What counts as an item?

1 Item = 1 video tape, film reel, audio cassette, or reel-to-reel tape. For photos, slides, and negatives, every 25 of these counts as 1 item (i.e., 25 photos/slides/negatives = 1 item.)
How can I contact customer service?

Customer service is available 24 hours a day and 7 days a week with a click or a call. Visit our Contact Page to get in touch.
Over 1 Million Memories Digitized and Thousands of Happy Customers
With our industry leading technology and world-class customer service, The Digitize Center is America's leader in digitizing video tapes, film reels, photos and more.
Pricing Made Simple - Save 50% on your Digitize Kit for a Limited Time!
Grace's Pick: The Digitize Center