Frequently Asked Questions
Frequently Asked Questions
What can you digitize?

We can digitize most types of commercial content, including videotapes, cassettes, photographs, negatives, film reels, and much more. To see a full list of what we can digitize, visit our What We Digitize Page.
How long does it take?

Typically, our standard processing time is 4-6 weeks from the time we receive your Digitize Kit. Rush and expedited processing is available to get your order done in as little as 3 days. Additional time for standard processing may be needed for extra large orders or during holiday times.
What will happen to the media I send to you?

Once all your media is digitized, you will receive all your original media back in addition to the digitized copies. We take extra care to keep the originals safe and preserved.
How do I check the status of my order?

You can quickly and easily check the current status of your order by visiting the Track My Order Page.
How can I contact customer service?

If you have a question, you should first visit the Help Page to see if you can find the answer there. If not, you can always contact our support team by email at support@thedigitizecenter.com. If you prefer to speak to someone over the phone, you can give us a call at (888) 235-1143.
What is the quality of the finalized digital media?

The Digitize Center leads the way in technology and innovation when it comes to digitizing precious memories at the best quality. Our technicians are fully trained at using our custom equipment to get the best result from your media. That said, old media files are limited in how much quality they can be digitized to, especially if they have faded at all or are damaged. In order to digitize at the best quality, we digitize your media to match its original format and quality. For example, most VHS tapes will be digitized to 480p resolution, which is what they played at when viewed in a VCR on an older TV. Your digitized videos will look crisp and clean at its original resolution and will play on all modern devices. For videos with washed out colors or faded images, we will attempt to restore and enhance these to bring back the original quality.
What if you cannot digitize something?

Dealing with old media can sometimes be a little tricky. Old tapes may be damaged, have excessive wear, or be unusable due to age. In these circumstances, we may not be able to digitize what is on them. When this happens, you will receive a credit for the item.
What if I want to send more items than what I originally ordered?

Not a problem. We will digitize any extra items you send us and invoice you for the difference.
What is the best way to receive the digital media?

Great question! It really all comes down to personal preference. Many of our customers use the digital download and the thumb drive. Some customers prefer to get their digitized media on DVD, that way they can easily pop it in a computer and view it. We always recommend both the digital download and thumb drive option as these are typically the easiest to use and are best for long-term.
Can I get my digitized media on my smartphone?

YES! It is very easy with our digital download option. Simply download the files using your smartphone or tablet, and they will then be on your smartphone for you to enjoy at any time or to share.
Can you back up my digitized media in case I lose it?

We automatically backup your digitized media for 30 days after the order is finished. You have 30 days from the time your order is finished to download them from us. If you would like, we can keep a backup of your files on an annual basis with Digital Memory Backup. That way, your digital files are always safe on our servers and you can easily access and share them.
What safety precautions do you take to make sure my items are not lost or misplaced?

We have never lost a single package or item from a customer. Not one. To see all of the precautions we take plus additional information, view this article.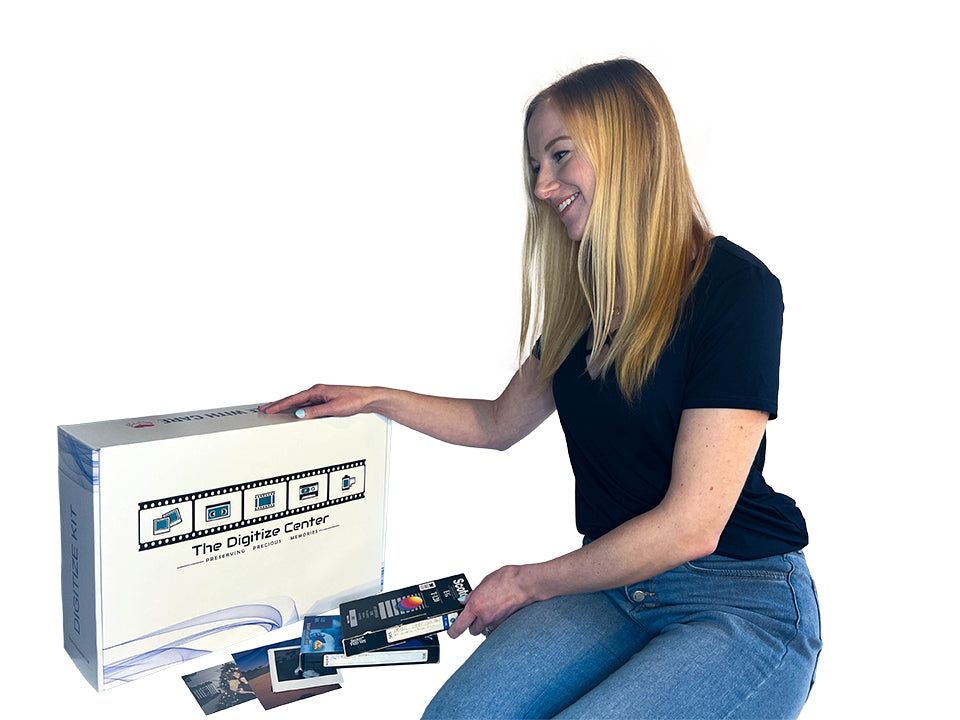 Get Help or Contact Us
See more Frequently Asked Questions and view articles in our Help Center
Help Center