Digitize CDs and DVDs to Digital Format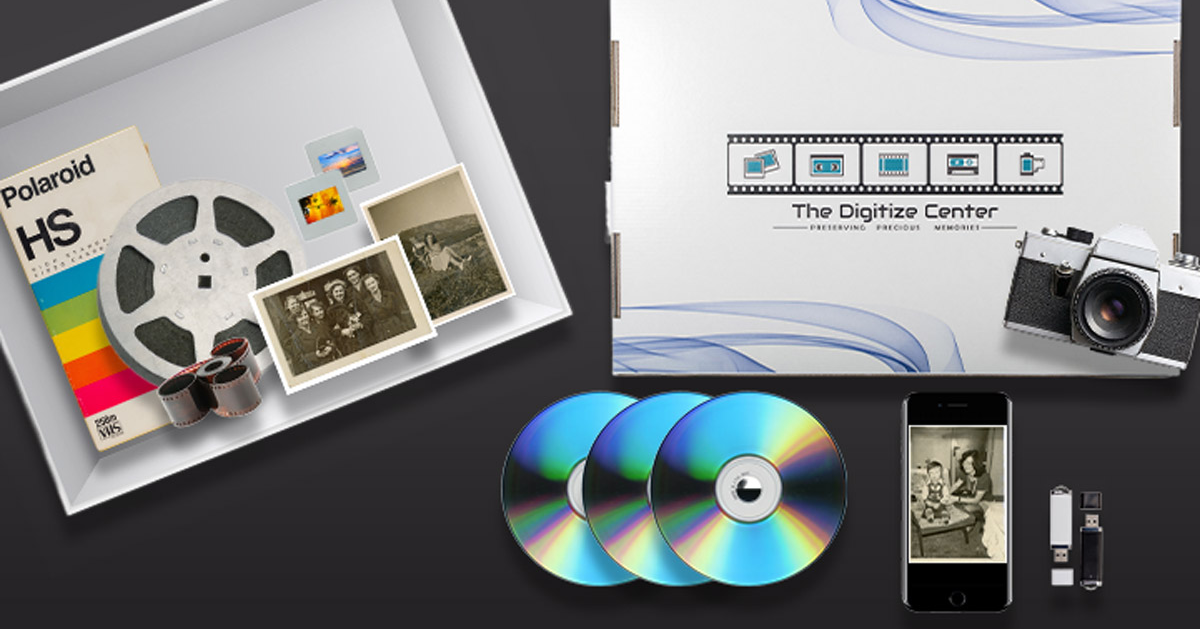 Convert your DVDs and CDs to Digital Format and Enjoy your Memories Forever
Digitize your CDs and DVDs into a digital format so that they can be preserved and last forever. Once digitized, your digital memories will be delivered to you on the format of your choice via digital cloud or USB thumb drive.
How it Works - The Process
Step 1: Order Digitize Kit and Pack your Discs

The first step is simple, order the Digitize Kit that corresponds to the number of items you plan to send in. Don't worry if you do not have the exact number, you can always send more if you'd like. Once the kit arrives, pack it with your memories and send it off to us using the prepaid special priority return label.

Step 2: Professionally Digitized with Care

Our team of experts will digitize all of your media with care and prepare it for you in the format of your choice. You will receive email updates along the way keeping you up to date on the status.

Step 3. Enjoy your Memories

You will receive all of your original media back, along with the digitized versions you can download from the cloud, receive on a thumb drive, or view on duplicate DVDs/CDs. Enjoy your digitized memories forever

What You Get
Frequently Asked Questions
What type of discs can you digitize?

We can digitize most formats discs including CDs, DVDs, MiniDVDs, Floppy Disks, and non-finalized DVDs.
How much does it cost?

Digitizing your discs is only based on the number of items you send in. To learn more, visit the Pricing Page or scroll down.
How long does it take?

It can take anywhere from 2-8 weeks to completely finish your order depending upon what size it is and if its during the busy season. However, we do offer expedited processing options that allow you to have your order completed in as little as 3 days!
Can I send other types of items in along with my discs?

Yes! You can mix and match as much as you'd like. We can digitize most types of consumer media, including video tapes, film, photos, and slides. For a full list of what we can digitize, visit What We Digitize.
What if one of my discs is blank?

We will go through each disc you send us from the beginning to the end to make sure we get everything from it. If a disc is completely blank, you will be notified and receive a credit.
What if my disc is damaged or corrupted?

We have specialty equipment that can recover most data off of any damaged CD or DVD. In some cases, we might not be able to get all of the data off of it. In rare cases, we might not be able to get any data off of a disk that is badly damaged, in which case you will receive a credit.
Which output choice should I choose?

This is really up to you and how you would like to have your digitized files. We can put your digitized files on the cloud for digital access and download, put them on a thumb drive, or create duplicate discs. For digitizing CDs and DVDs, we always recommend the Digital Access option.
Will you name the files?

Yes! This is something that only we do. Whenever possible, we will take whatever labels you have on the discs and apply that name to digitized file. So if you have a disc labeled Christmas 2001, its digitized file will have that same file name.
I'm nervous about sending my memories. What safeguards do you take to keep my memories safe?

Excellent question! We take a number of measures to make sure your memories are safe and secure from the moment they leave your possession until you receive them back from us. This includes using a special priority shipping service, an advanced internal tracking system, and more. So far, we have digitized over 1 million memories and have never lost or damaged a single one. Not one! To learn more about the safeguards we take, read this article.
Can you digitize copyrighted CDs/DVDs?

No, we cannot digitize any copyrighted content such as Hollywood movies.
Why Digitize your Video Tapes?
Preserve your Memories Forever

CDs and DVDs are a great medium to store content on. However, if not properly stored and handled they can easily become damaged, corrupted, or badly scratched. Digitizing these to a more preferred digital format such as a thumb drive or digital cloud preserves the content on the disc indefinitely and is well worth it.

Share with Family and Friends

Digitizing with The Digitize Center makes it easy to share your memories with family and friends. Once digitized, you can share whichever disc you like easily with the people you choose using our Digital Cloud. Send home movies straight to anyone's smartphone or email in the cloud or order additional thumb drives or DVDs for more physical copies.

Protection from Loss or Damage

Digitized memories are protected from loss or damage with our Digital Memory Cloud Backup. Once digitized, you never have to worry about losing your memories to an unforeseen disaster as we keep your memories backed up in our secure cloud.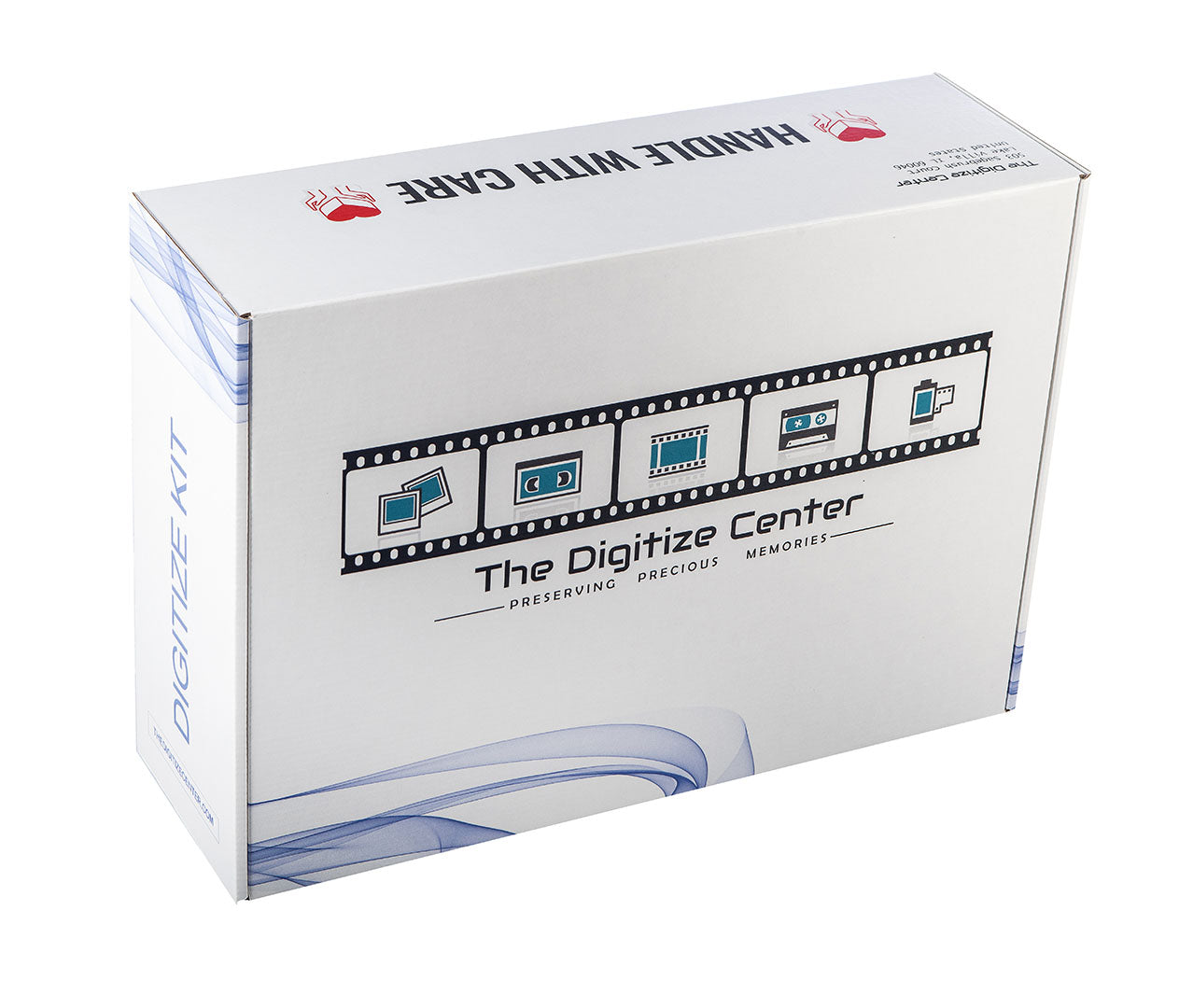 Get Started Now with your Digitize Kit
Order the Digitize Kit that corresponds to the number of items you want to digitize and prepare to enjoy a lifetime of memories in high-quality digital format. Fill up the Digitize Kit with your memories and receive everything back fully digitized in just a few weeks.
Order Digitize Kit
Industry Leading Quality at Industry Leading Pricing
What You Get
Digital Download & Cloud

Once your media is digitized, you can access and download all of it from the cloud onto your computer, smartphone, or tablet.

Thumb Drive

We can send you a thumb drive with all of your digitized media on it neatly organized. Simply plug the drive into your computer or Smart TV and enjoy.

Duplicate Discs

Enjoy your digitized media on additional CDs or DVDs.
Over 1 Million Memories Digitized and Thousands of Happy Customers
With our industry leading technology and world-class customer service, The Digitize Center is America's leader in digitizing video tapes, film reels, photos and more. See what our customers have to say about us: